World Forklifts West Wins One Planet Awards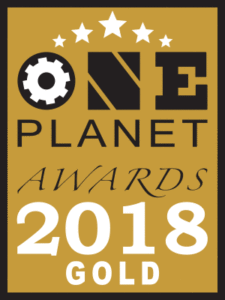 We are thrilled to announced that the World™ Lithium forklift was recently named the most innovative product of the year by the prestigious One Planet Award. The World Lithium is a zero emissions forklift that is safe to operate inside buildings, warehouses or ships. The World Lithium does not emit fumes, soot or noise and meets even the most stringent air quality regulations.
Our lithium battery forklift not only charge faster, they store about three times as much energy as a standard lead acid battery. In addition, we utilize an advanced regenerating braking system that charges the battery each time the breaks are pressed. In addition, our forklifts have consistent voltage outputs, means that World lithium electric forklifts won't slow down even as the battery approaches full discharge, and can recharge in just a few hours. Level II or DC Fast Charge capabilities minimizes downtime further. All this means your forklift operators spends less time refueling or charging, and more time doing work.
About the One Planet Awards                       
One Planet Awards recognizes companies for their business and professional excellence. The One Planet Awards honors are currently conferred in category sections which include outstanding individuals, executives, teams, new products and services, PR, Marketing, and Corporate Communications, and organizations from all over the world. Learn more about the One Planet Awards at www.oneplanetawards.com and participate.