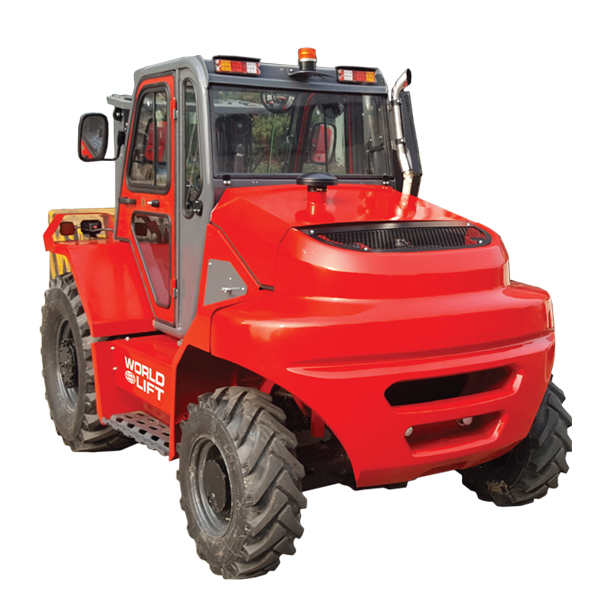 WORLD™ ROUGH
TERRAIN 4WD SERIES
THE AFFORDABLE 4WD ROUGH TERRAIN FORKLIFT YOU CAN DEPEND ON
World Rough Terrain Series
The World Rough Terrain 4WD forklift line was designed with all the same benefits and features you expect from cutting-edge forklift manufacturer, but at a significantly lower price point. The World Rough Terrain 4WD series is the most cost effective 4WD in its class. At a fraction of the cost of other 4WD forklifts, companies save thousands of dollars for a dependable, reliable, and powerful forklift that meets the demands of challenging outdoor environments.
Equipped with an expansive array of standard features, the award-winning World forklift line is quickly becoming the forklift of choice for smart companies. Get the job done, without breaking the bank.
Key Benefits
Switchable between 2WD and 4WD on the fly
Able to work in extreme terrains such as gravel, hard-packed sand, or grass
Large "lug" type tires and 12-inch ground and mast clearance for continual performance in even the most tough conditions
Affordable without compromising on quality and reliability
Meets Tier 4 emission standards utilizing Hatz turbo-charged engines
Automatic power shift transmission with separate inching and brake pedals ideal for use on ramps and inclines
Safety features like daylight strobes, back-up alarms and a variety of warning systems
Standard side shifter and third valve with hosing
EPA Compliant; CE Certified; meets or exceeds all ANSI B56.1
Customized exterior colors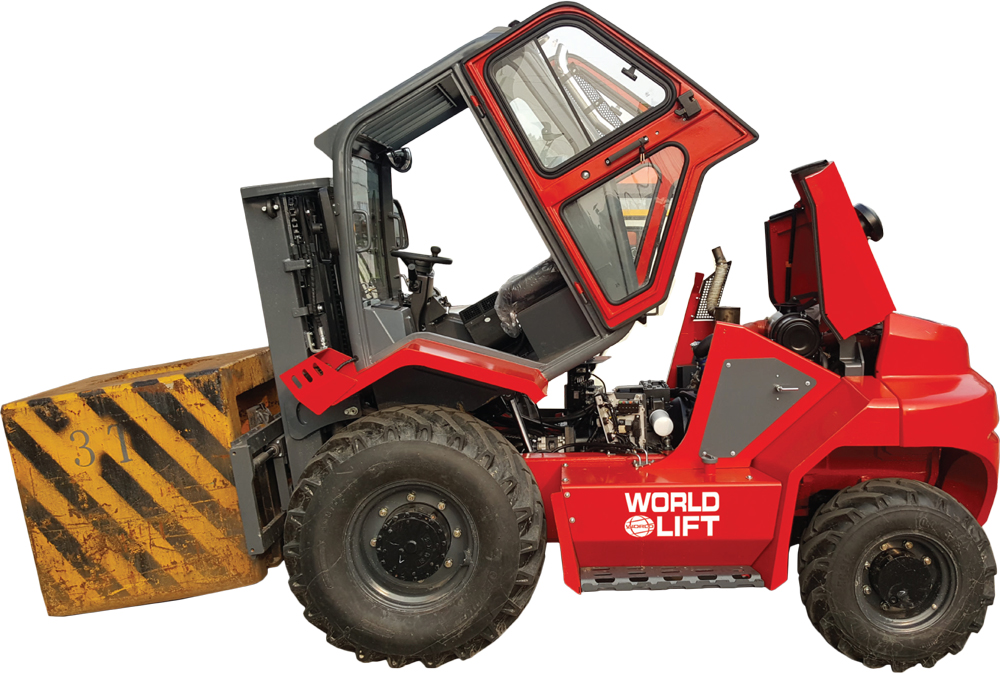 Recommended Uses
Need a dependable, cost effective forklift that performs in even the most extreme outdoor conditions? Then the World Rough Terrain 4WD Forklift is for you. The 6,000 to 8,000 lb. capacity World Rough Terrain 4WD is designed for high mobility, reliability, and high productivity in even the most extreme terrain — from docks to yards, to vineyards, timber, forestry, and construction sites.
Plus, World Rough Terrain 4WDs use dependable, yet simple components making them easy to maintain. And advanced diagnostics software assist with maintenance and repairs, so you no longer need specialized mechanical expertise. All this means minimal downtime, so your operators spend more time doing work.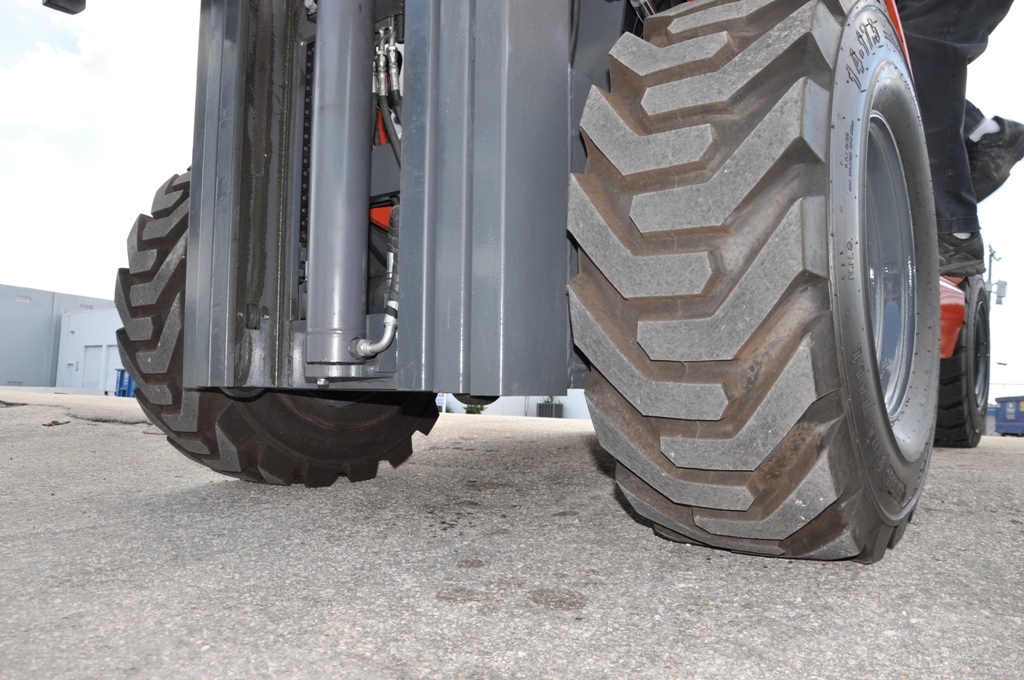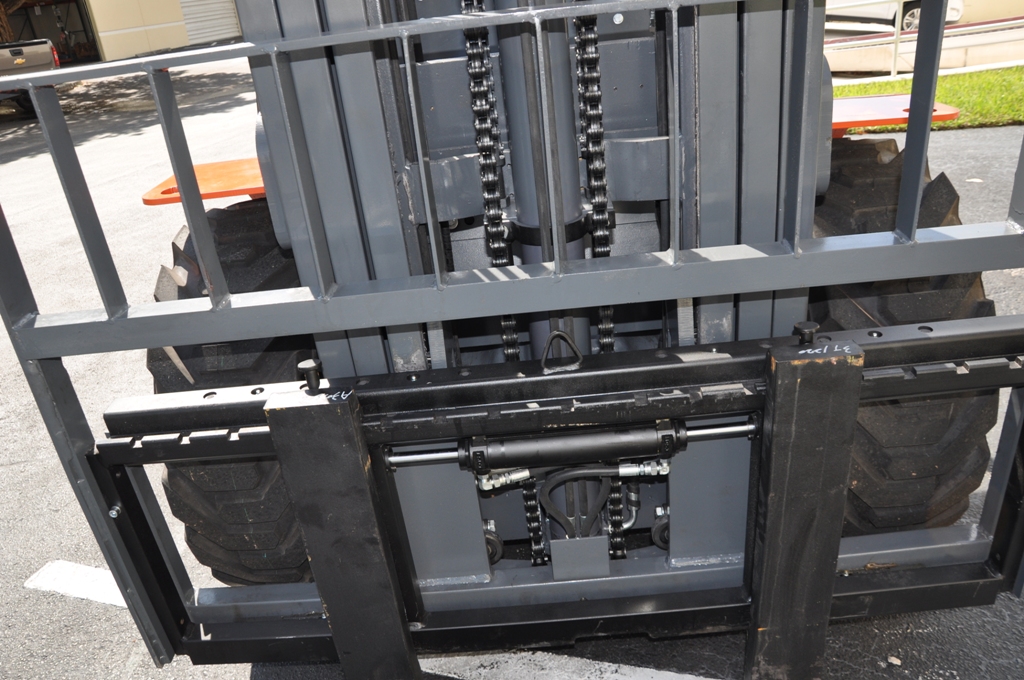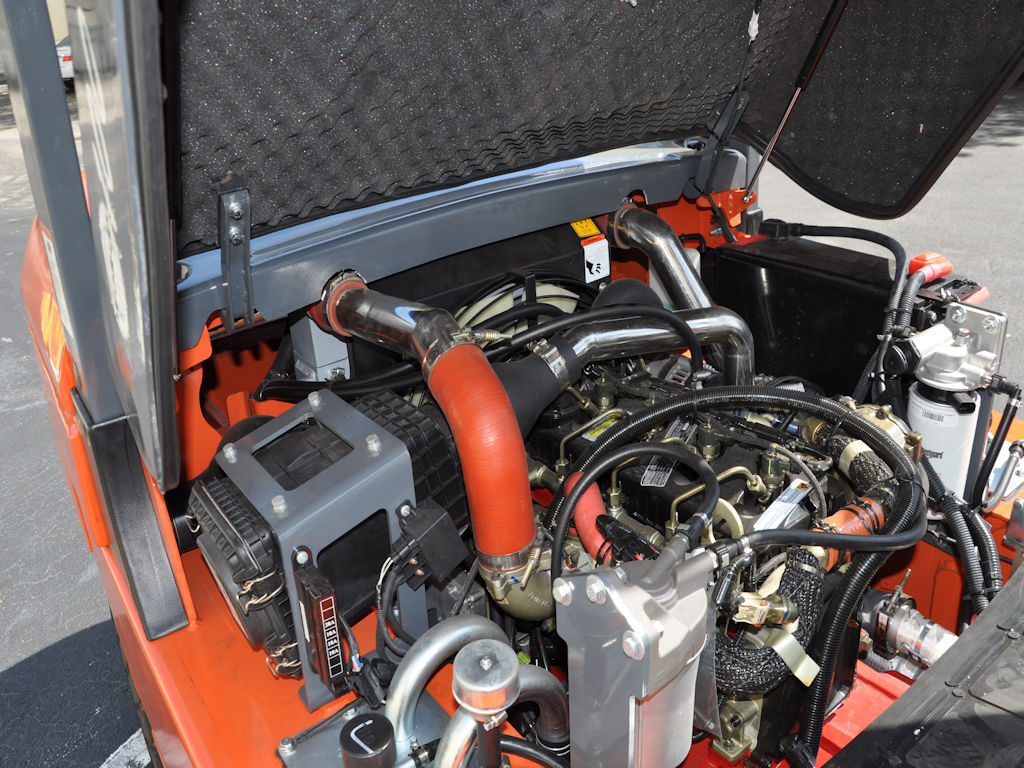 Feature-Packed
Affordable does not mean less features. The World rough terrain 4WD series comes equipped with an expansive array of features:
Tilt steering wheel
Adjustable seat
Seat belt
Dual head lights
Front turn signals
Rear turn signals
Brake lights
Back-up lights
Back-up alarm
Neutral safety switch
Welded overhead guard
Integral gas tank
Integral hydraulic tank
High air intake
Cyclone air cleaner
Insulated engine cover
Hand hold for entry
Radiator overflow bottle
Third valve & lever
Horn
Hour meter
Charge warning light
Temperature warning light
Oil pressure gauge
Key switch
Safety load backrest
ITA Class III forks & carriage
Easy access floor boards
Rubber safety mat
Meet or exceed all ANSI B56.1
Safety standards for powered industrial trucks and underwriters laboratories requirements as to fire hazard. EPA compliant. EC and ISO Certified
 — Why Smart Companies Choose World — 
Expansive List of Standard Features